2 min read
Food and Drink Guide to Rogue Valley Country Club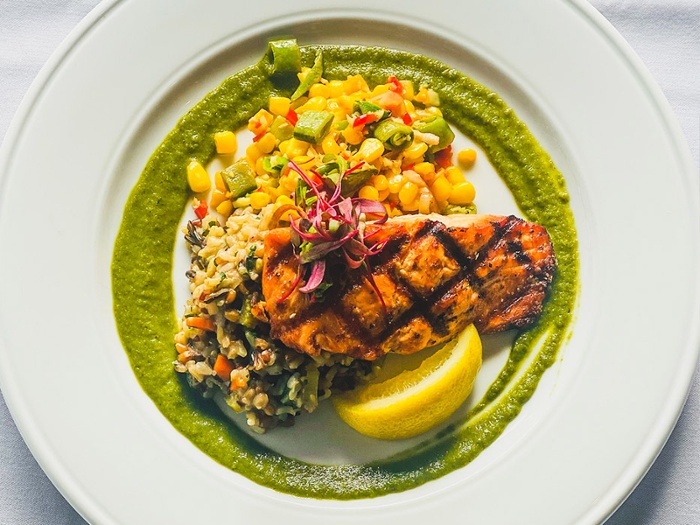 Food and drink bring people together in a unique way. It may be a romantic multi-course dinner with your partner, a regular family night out that everyone looks forward to because they get exactly the things they love, or a cold beer shared with friends at the end of a round of golf. These moments are special and Rogue Valley Country Club's Executive Chef Sean Sims appreciates this.
"We have members who dine with us multiple times a week," says Sean. "I want them to enjoy every one of those meals. We need to be both consistently strong across our menu but still able to deliver the best of what's in season in a spectacular way."
Sean's fall menu reflects this attitude with dishes like harvest scallops served over a cinderella pumpkin puree and accompanied by a grain pilaf of couscous, quinoa, orzo, kale, apple, and finished with emerald sauce.
Such fall-fest-fair compliments popular staples like char-grilled ribeye steak, parmesan-crusted halibut, and chicken & chanterelles. The indoor menu also includes fresh salads, sandwiches, burgers, pastas, and delectable appetizers.
"Our members want fresh and locally-sourced options whenever possible and we do everything we can to accommodate that," says Sean.
Local Libations and More
Part of the live-local mentality of Rogue Valley Country Club members includes the monthly wine gatherings. Our region is blessed with many fine wineries and RVCC welcomes vintners to the club to share the fruits of their labors with members. These popular Wednesday affairs offer a great chance for members to gather, sample local wines, and go home with a couple of their favorites.
Other special food and drink events include Sunday brunches (with special menus for Easter and Mother's Day), family nights held each Thursday from October to April, and kids cooking classes where youngsters can learn to make a different dish each time.
Like so many of Rogue Valley's amenities, the food is family-focused and part of the larger communal atmosphere. The dress code for the club is more casual and kids are appreciated for the energy they bring.
"It's one thing to know parents like the chance to feed everyone a good meal that they don't have to spend time preparing," says Keith Hollensbe, Outdoor Food & Beverage Manager for Rogue Valley, "but it's another thing to see a kid's face light up when they climb out of the pool and the burger they love from the Sports Center Cafe is waiting for them."
Scrumptious Scenery
A big part of the beauty of the culinary experience available at Rogue Valley Country Club is the natural beauty of the Siskiyou Mountains that act as a backdrop for every meal. Whether you choose to dine at one of the five indoor spaces, outside on the West Terrace, or poolside at the Sports Center Cafe, you will enjoy the view nearly as much as the food.
"My passion is to provide members with meals they'll remember," says Sean. "Rogue Valley is a very special place, and I want the food experience to match that."