FITNESS CENTER
It's time to move!
Ditch your gym membership and enjoy our state-of-the-art Fitness Center. It boasts 3,500 square feet of exercise and cardiovascular equipment. Improve your cardio, muscle, conditioning, balance, and flexibility with TRX stations. Workout on your own, join a class, or get customized personal training. The great locker room amenities making working out at Rogue Valley Country Club a breeze.
PERSONAL TRAINING
Meet our exclusive personal training team. Kendra, Brady, & Rosie are each certified and passionate about helping you reach your fitness goals in a fun and supportive environment.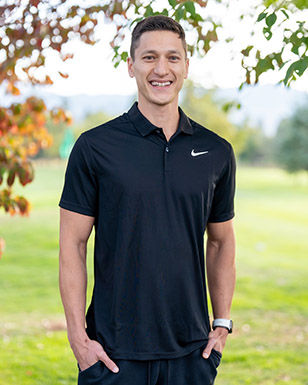 BRADY
Personal Trainer
Working since 2010 with athletes of all ages, Brady trains people for their lifestyle, fitness, and sport-specific needs—believing everyone can benefit from physical fitness. He is a National Academy of Sports Medicine Certified Personal Trainer and has a BS in Business from Portland State University. Brady is a firm believer in education and experience to provide the best and safest training. Keeping a very open mind, his goal is to give people a better quality of life with their fitness.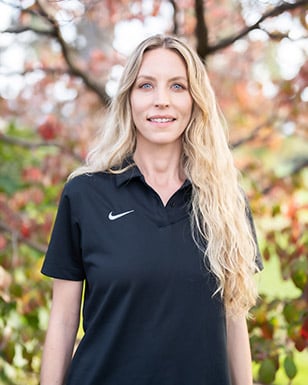 KENDRA
Personal Trainer
Kendra is a Certified Personal Trainer and Sports Nutrition Coach through the National Academy of Sports Medicine. She has been training for 4 years and is our clubs yoga instructor. She is a firm believer in movement as medicine, teaching functional movements to optimize performance and correct muscle imbalances. Kendra also holds a Bachelor's in Health and Physical Education and a Master of Science in Nutrition. She strives to help her clients feel comfortable in their bodies and enjoy exercise!
ROSIE
Fitness Director
Rosie has been a certified personal trainer since 2016. Maintaining certifications with NASM, ISSA, and Brookbush institute; she began her career working as a trainer in physical therapy clinics on the Oregon coast and in Eugene. All while studying athletic medicine at LCC and UofO. Since then she has trained in various commercial gyms in Salem, Grants Pass, and Medford. She specializes in preventative exercise, rehabilitation, and functional training. Certifications: NASM/ISSA/Brookbush institute CPT Certified Nutrition CoachCertified Movement Specialist Certified Correctional Exercise Specialist Certified in Manual Therapy