3 min read
Kids Golf Program: A Big Benefit at Rogue Valley Country Club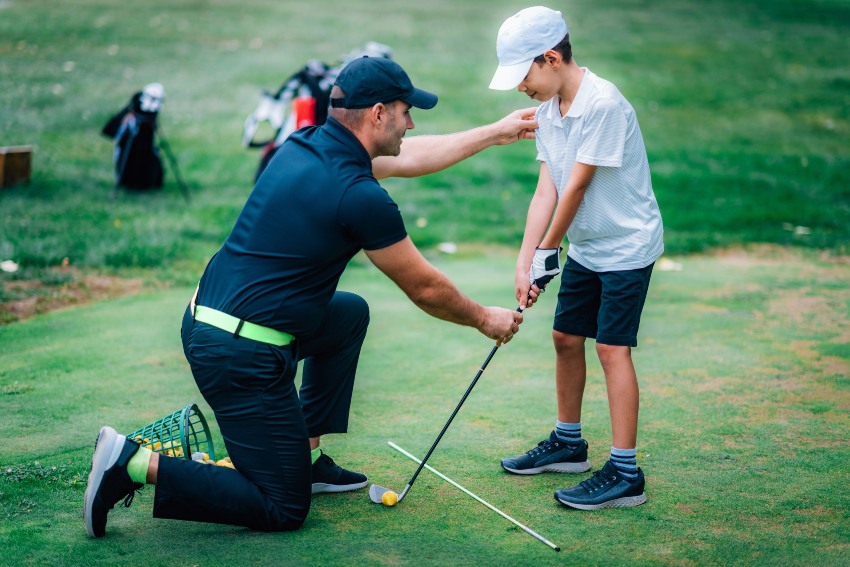 The popularity of golf across the country just might be at an all-time high. But what about the future of the sport?
At Rogue Valley Country Club in Medford, Oregon, Head Golf Professional Tracy Snyder and his team are already working to keep the game relevant for all ages, especially the youth. "Golf is still thriving," Snyder said. "There's still a lot of people playing golf. COVID really helped the outdoors (industry). People really like to be outdoors now and golf is something that they can do."
Synder and his team at Rogue Valley Country Club know how important it is to get and keep younger kids involved in the game for life.
"It's hugely important," Snyder said. "Especially at a private club like us, your membership tends to get older and you have to be able to bring in the younger generation to help keep things moving along. Since I've been here, we've had kids in our Junior Program who are now members of the club. That tells you how important it is."
Partnership to Support Junior Golfers
Responding to member requests, Rogue Valley Country Club has enhanced its Junior golf program to give kids even more opportunities. A partnership with the Southern Oregon Golf Academy was a big step the club took to open more doors for younger golfers.
"We've always had a very successful Junior Program," Snyder said. "We had 80-100 kids in it which is great. We kept hearing from the members that they wanted more for the kids. It didn't feel like we had enough staff for that, so we partnered with the Southern Oregon Golf Academy. They are handling all our Junior Programs now and they are able to do more clinics and programs to help keep the kids involved and give them more opportunities when it comes to golf. It's definitely opened the doors for more things to Junior golfers."
The Southern Oregon Golf Academy works with experienced coaches in a variety of programs to not only get kids into golf but also to help improve their game as well. It's a great program that gets kids on the course and a chance for them to fall in love with the sport.
"It kind of gets you hooked right off the bat," Snyder said. "It's not the easiest sport in the world. I think kids see it on TV and think it might not look as fun as a basketball game but when they come out and experience it, it doesn't take much to get them hooked."
More Holes to Learn On
Another big benefit Rogue Valley Country Club offers for Juniors is the chance to play either the 18-hole Rogue Course or the 9-hole Oaks Course. This gives kids a chance to get out on the course more often as well as not be thrown into an 18-hole round right out of the gate.
"That's a big benefit of being a 27-hole facility," Snyder said. "Having that nine extra holes for the kids to be able to go out and not only do things in a clinic setting but also on their own is big. Just letting them get out and enjoy the game has been a big asset here at the club. We want to give the most opportunities that we can."
Part of the Junior Program at RVCC is not only teaching the sport, but also showing what life lessons can be learned from playing the game of golf.
"It's something that we stress a lot," Snyder said. "There's the honorable side to the game. Just being able to follow the rules when there's no referee and you're officiating yourself."
It's an exciting time at Rogue Valley Country Club right now. Not only is golf thriving at all levels, but they are also being represented on the PGA Tour. Dylan Wu, whose family has been a member of the club ever since he was a child, now finds himself on tour competing with the best golfers in the world after working his way through Juniors and the PGA Tour itself.
"Right now the club is excited because we got one of our Junior golfers who has come up through the program and is now having success on the PGA Tour," Snyder said. "It's kind of exciting for the club to be able to watch this young kid who has moved all the way up and play on TV. His family have always been members. He started ever since he could hold a club and came through our Junior Program and lessons. He's worked his way up now. His whole family has been successful with golf but he's taken it to a new level."