3 min read
Oregon Wineries Get a Spotlight at Rogue Valley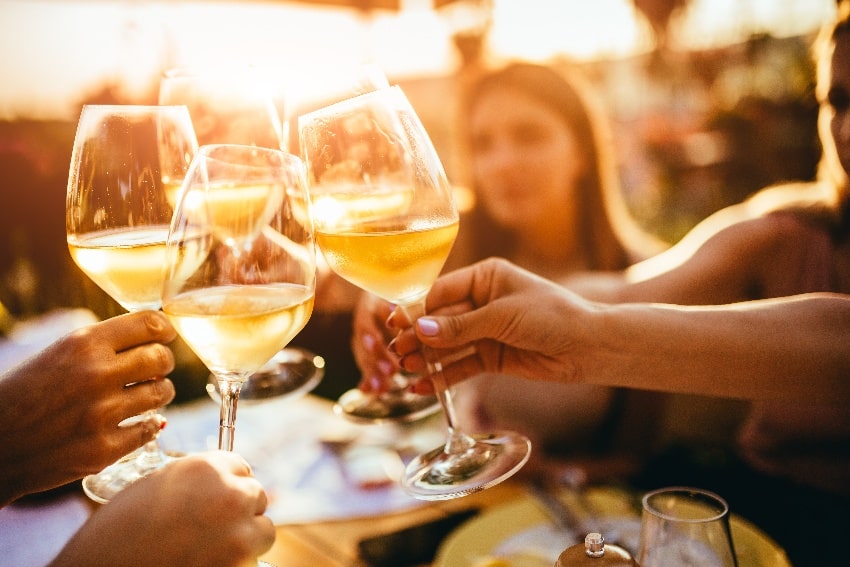 Rogue Valley Country Club, nestled in a scenic glen near the Siskiyou Mountains, is neighbor to some of the most diverse, fastest-growing wineries in the US. Wine experts and casual enjoyers alike are often surprised by the quality and quantity of the wine varietals these makers are crafting.
Winemaker dinners and monthly Wine Wednesday events offer Rogue Valley Country Club members a chance to explore the region's robust wine scene.
Wine Country Living
Though Oregon might be known as the Pinot Noir state, the microclimates of Rogue Valley allow winemakers to experiment easily with flavors and varieties. The Valley's warm, dry growing season and 40-degree latitude are a perfect recipe for winemaking. The optimized environment, combined with Southern Oregon's wide variation in soil types and elevations, allows winemakers to generate more than 50 wine varietals. Because of its top-notch wines and superpower of variety, Rogue Valley was nominated as one of the top wine regions in the world for 2023 by Wine Enthusiast.
Not only is Rogue Valley more wine-diverse, but it's more intimate than many neighboring wine destinations. As an up-and-coming wine region, Rogue Valley experiences less tourist traffic than Willamette Valley, making for a more peaceful wine scene and more specialized attention to local consumers.
Wine at the Club
Rogue Valley Country Club is in on the Valley's best-kept secrets: its small winemakers. Michael McGrail, RVCC's Food and Beverage Manager, is an expert in the local wine scene. "Before I came to work at the club," he said, "I was a cellar assistant for a year and half for a local custom crush winery," where winemakers can process, ferment, and bottle their own wine without the hassle and cost of owning their own winery.
Now at Rogue Valley Country Club, Michael heads up the Club's monthly Wine Wednesday events, which he "started to highlight our wine scene here in the Rogue Valley."
Each month, RVCC hosts a local winery for a tasting. The events are lively and social; members can meet the winemakers, compare favorites among friends, join exclusive winery clubs, and even buy bottles to take home. Other events–like winemaker dinners, which feature pleasing pairings–also highlight the Club's relationship with the fast-growing wine scene of the Valley.
Supporting Local Makers
The club has garnered relationships with over a dozen local wineries, with a different one coming to do a tasting every month. Rogue Valley Country Club brings the best of the Valley right to its members so they have the chance to get familiar with these local winemakers–and their wines:
Grestoni Vineyards
Naumes Suncrest Winery
Trium Wines
Quady North
Peter William Vineyard
Awen Winecraft
Parkhurst Wine Cellars
Bayer Family Estate
Pebblestone Cellars
2Hawk Vineyard
Fences Winery
Ryan Rose Wine
Rellik Winery
Hummingbird Estate.
The region boasts over 4,000 acres of sprawling vineyards, and each winemaker has their own unique story.
Grestoni Vineyards, who joined RVCC for a Wine Wednesday in February 2022, grew out of a family garden and is run by a family whose roots go back to Monterosso, Italy.
Parkhurst Wine Cellars embraces Oregonian history by naming the winery after One-Eyed Charley Parkhurst, a 19th-century woman who disguised herself as a man to drive stagecoaches west in the early days of the Valley.
Naumes Suncrest Winery originated when a family of third-generation farmers turned an apple orchard into a vineyard.
2Hawk Vineyard distinguishes their product with a dedication to incorporating natural farming practices and upcycled materials into their winemaking process. 2Hawk has also been recognized by Wine Enthusiast for their 2018 Darow Series Malbec, which garnered a score of 93 (with the highest score in the country being a 98 out of a possible 100).
Other Rogue Valley wines that have been featured at Wine Wednesdays include the Peter William 2021 Daisy Creek Vineyard Viognier and the Fences 2016 Estate Cabernet Sauvignon, both with some of the most impressive scores in the country at 95 points each.
Rogue Valley Country Club offers members the chance to be connected with their Southern Oregon community through a love of wine. Don't miss out on toasting this up-and-coming region with a glass of Pinot Noir at RVCC.