3 min read
Looking for Pickleball 'Courts Near Me?' Find Rogue Valley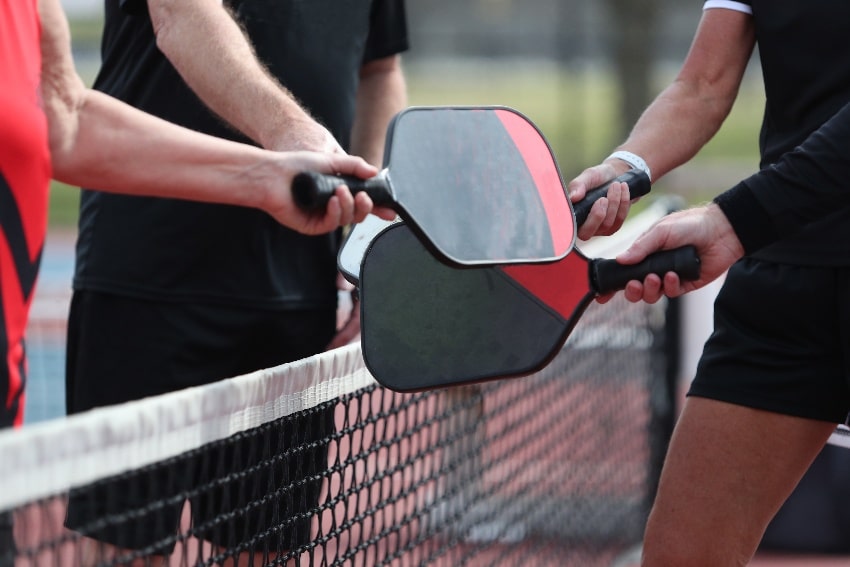 So, what do LeBron James, Tom Brady, Naomi Osaka and Patrick Mahomes have in common?
If you said they're all superstar professional athletes, you wouldn't be wrong.
But did you also know they all are owners of professional pickleball teams? As are Heidi Klum, Kevin Durant, Eva Longoria and Michael Phelps.
It seems you can't pick up your smartphone or turn on the television without seeing something about the country's most popular new sport.
Pickleball Popularity Booming
"I absolutely am seeing it," says Dustin Loomis, Sports Center Manager at Rogue Valley Country Club. "I get pickleball magazines and stuff from InPickleball with Katie Couric on the cover. So it's hard not to see what's happening with how big it is."
Loomis has been at Rogue Valley for the past 17 years, overseeing the tennis, miniature golf, bocce ball, volleyball, and basketball courts among other venues at the club. But since pickleball was introduced about six years ago, he's never witnessed a more meteoric rise in the popularity of a sport.
"They say it's the fastest growing sport in America," he says. "And I definitely see that as well."
You may be wondering how the sport has become so favored among active adults. Loomis believes its popularity stems from an inherent accessibility to anyone who wants to play, regardless of age or skill level.
"It's a bit more of a social game with a smaller area than tennis, so people can talk a bit more," he says. "It's not as serious as tennis, not as much lateral movement. People pick it up quickly and can get rallies going."
If you're unaccustomed to pickleball, think of it as a cross between tennis and ping pong, with a little badminton mixed in.
The standard pickleball court is 20 feet wide by 44 feet long, about the third of the size of a tennis court. Paddles, not racquets, are used with a standard size that is 7-to-8 inches wide and about 16 inches long. A whiffle-like ball, a little bigger than a tennis ball is volleyed over a 36-inch high net.
And most pickleball courts feature the same acrylic surface material as a tennis hardcourt.
Picking Up Pickleball
"The tennis ball kind of bounces everywhere and you have to chase it around." says Loomis. "But you can actually get a rally going pretty quick in pickleball because the wiffle ball doesn't bounce all over the place. It's a lot easier to track, especially for people who have played tennis and transition to pickleball, they pick it up really quick."
If you're curious about taking up pickleball, Rogue Valley has you covered, with four indoor courts as well as additional outdoor courts coming this spring.
And there's also a new club pro to provide newcomers with lessons and guidance.
Shelly Cox is an IPTPA Certified Pickleball Teaching Pro. She has a background in tennis and racquetball, but has fallen in love with the newest paddle sport. And she can't wait to share her enthusiasm with Rogue Valley members.
"She's amazing," says Loomis. "She loves pickleball; she has great energy and people really like her."
Rogue Valley offers private lessons and clinics for pickleball, tennis, and ping pong; along with social mixers, youth programs, and UTR tournaments.
Court times at Rogue Valley may be reserved in 90-minute intervals, which Loomis says is plenty of time for a tennis match. But he warns many of the club's pickleball enthusiasts will double that window to play their new favorite sport.
"I'm not kidding you! All my groups, when they find out they can do that, they like to go back to back," he says. "They'll play for three hours easy."
Rogue Valley is holding off on plans for pickleball tournaments in the immediate future. But with popularity growing so rapidly, don't be surprised to see competitions coming to a club near you.
"Our court usage has been pretty high with tennis and pickleball lately," says Loomis. "We're incorporating a lot more pickleball, and we're trying to make it more fun for members. Then we'll probably start doing some tournaments."
Loomis estimates the tennis-to-pickleball ratio was 70/30 during the first five years that pickleball was offered at Rogue Valley. In the last year, he says it's closer to 50/50.
"People get the itch," he says. "They invite their friends and we have lots of new members joining just to come and play pickleball."
For more information about playing pickleball at Rogue Valley, contact the Sports Center and Tennis Club at 541-773-4552 or email at tennis@rvcc.com.