2 min read
Twice the Fun: Rogue Valley Country Club Boasts 9- & 18-Hole Courses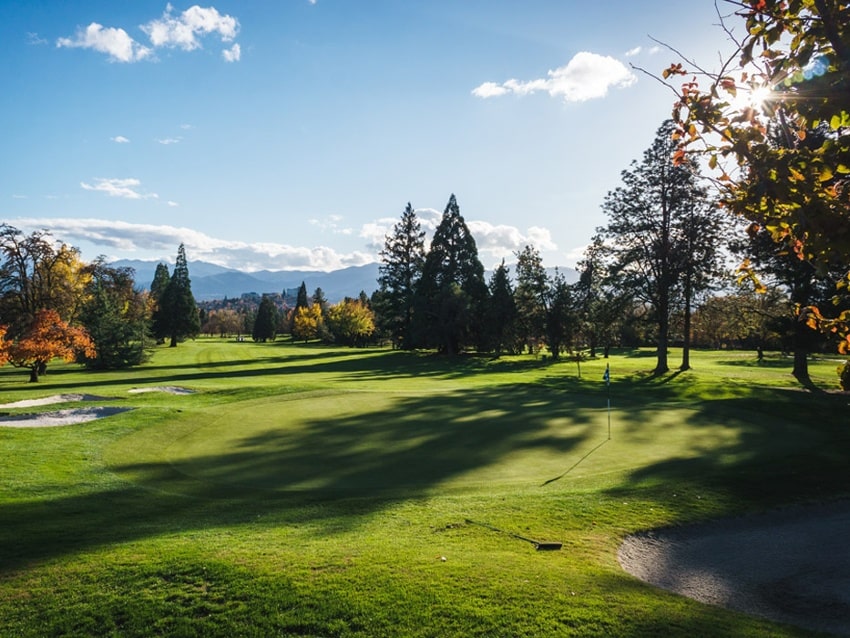 Versatility. It's unlikely to be the first word you think of when describing a championship golf course. But versatile is perhaps the best way to characterize the 27 spectacular golf holes at Rogue Valley Country Club.
The Rogue Valley region of Southern Oregon features only a few 18-hole golf courses, with the majority in the area being 9-hole executive courses. Only RVCC offers both 18-hole and nine-hole golf courses at a single, year-round destination.
But that is just the beginning.
Customize your Round
Framed by a panorama of the Siskiyou Mountains and accented by the grand oaks lining its fairways, RVCC has provided members with spectacular golf experiences since its inception nearly 100 years ago.
Not only may members choose between the 18-hole Rogue Course or the nine-hole Oaks Course, they're encouraged to take advantage of the wide offering of tee box choices to customize their rounds, creating a unique golf outing every time they visit the club.
"Members definitely enjoy the options," says Tracy Snyder, the Head Golf Pro at RVCC since 2012.
With four tee box options on the Rogue Course and five on the Oaks, the 27 holes at RVCC truly provide endless opportunities to create the perfect round.
"We have a gold/blue combination for those who aren't ready to move from the gold to the blue tees," he added. "We also have a blue/white and a white/red combination."
The nine-hole Oaks Course even features a Par 3 layout, with tee markers positioned along the fairway, providing a great way for families and beginners to share an enjoyable round amid the spectacular views.
"It seems as though you don't ever have the same hole twice," says Snyder. "It always feels like there's something new."
This versatility is part of why Rogue Valley Country Club is such a great place to get kids into the game of golf.
Unique and Historic
Along with a host of tee-shot options at their disposal, members are invited to experience a piece of history at RVCC, by taking a uniquely alternative route along 18 of the club's 27 holes.
Rogue Valley Country Club's original course, a nine-hole layout designed by Chandler Egan in 1924, has certainly evolved over the years. A second Egan-designed nine opened in 1933; while a third nine, designed by Ron Caperna, was added in 1961.
The layout of the course was redesigned, combining nine of Egan's original 18 holes with Caperna's nine-hole design to form the 18-hole Rogue Course we know today.
Members are invited to take a walk down memory lane and play the original Chandler Egan Course by taking a different path to make their round.
"We go back to what was the original layout," Snyder explains. "So you'll play holes 1, 2 and 3 on the Rogue and then cut over to play 13 through 18."
The reimagined "classic track" comprises the front nine; while the Oaks Course provides the back nine.
"I would say it's one of the best layouts around when you play that way," says Snyder.
The Oaks is the most challenging nine at RVCC, according to Snyder, making the nostalgic tour of the Chandler Egan course a bit more daunting for less experienced golfers.
Something for Everyone
If you're passionate about the game of golf or a casual weekend player, Rogue Valley Country Club is the perfect destination to enjoy an exceptional golfing experience coupled with the unmatched beauty of Southern Oregon.
RVCC features 27 spectacular holes of year-round golf, each with a wide variety of playing options, ensuring golfers at all levels of play will discover a lifetime of enjoyment along every fairway.