3 min read
Strengthen Your Relationship by Joining Rogue Valley Country Club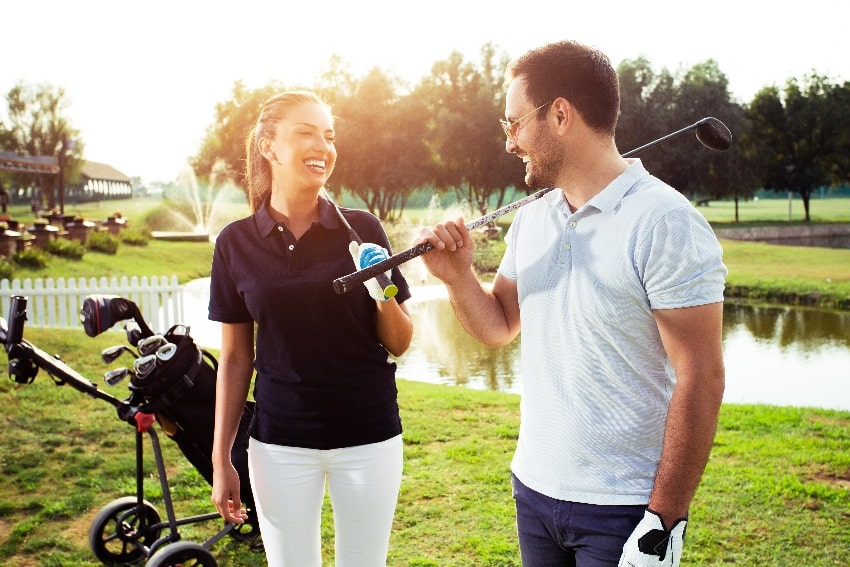 Joining a country club might not be your first thought for building a strong, fun relationship, but Rogue Valley Country Club should be on your to-do list for many reasons. The club offers no shortage of date night ideas and daytime adventures for newlyweds and long-established couples alike.
With Valentine's Day around the corner, you can toast to your relationship with a wine tasting at monthly Wine Wednesdays, challenge each other to a game of golf (or mini golf!), or even plan to renew your vows in one of Rogue Valley Country Club's beautiful event spaces.
Toast to You
Rogue Valley Country Club is a great option for Oregonian foodies; just see Executive Chef Sean Sims' excitement about the Club's fresh, locally sourced menus. On top of fine dining options, members also have the option to share tapas of the week, a perfect way to learn each other's tastes and get talking about the food.
For couples who might consider themselves wine enthusiasts, or even those with a passing interest, Rogue Valley Country Club hosts Wine Wednesdays once a month. The social wine tastings feature selections from local Southern Oregon wineries with a chance to converse with the winemakers and buy bottles to take home for the next date night.
Build Some Good Tension
For couples who golf together, RVCC's courses–the Oaks Course and the Rogue Course–provide a chance to encourage each other–or to stoke some friendly competition. The driving range can also be a perfect place to challenge each other or simply compare downswings. For those couples who aren't pros, the mini-golf amenity is the perfect date idea to feel like a teen again–just without a curfew.
RVCC's Sports Center is another option to build common interests and have fun as a couple. Throughout Oregon's winter months, ping pong and cornhole are available to play in RVCC's temperature-controlled Sports Center. Best two out of three? Or, the tennis and pickleball courts in the Sports Center offer the chance to learn a new game together this spring.
Become Social Butterflies
The club's impressive event programming lends itself to lively, entertaining nights out at the club. Team up with another couple or strategize as a pair on the first and third Tuesdays of every month for Trivia Tuesdays. You can make it a bimonthly ritual to discover more about your partner's niche pockets of knowledge while showing off your own, and maybe even making friends along the way to that win.
For a more low-key, intimate date night, check out RVCC's monthly live music performances like those from South Oregon local singer-songwriter Jeff Kloetzel. You and your beloved can listen the night away or float into RVCC's social scene, all with the grand Siskiyou Mountains in the background.
Play It Again
Have you thought about renewing your commitment to each other? Rogue Valley Country Club is the perfect place to start your life together anew. Whether you're simply promising to spend more time together, celebrating a milestone, or wanting to formally renew your vows, RVCC can help make it happen.
Rogue Valley Country Club's inviting banquet facilities–renovated in 2015–just might inspire you to celebrate an anniversary with friends and family. RVCC offers manicured grounds, sprawling greens, and an enchanting mountain view to set the scene for your next phase of life together. For that special day–first time and milestone alike–Rogue Valley Country Club offers luxury services like a bridal suite complete with a mimosa bar to ensure your comfort–and a lifetime of happiness together.
Spoil Your Valentine
Rogue Valley Country Club provides a warm, inviting setting for your relationship year round, and it doesn't disappoint on Valentine's Day. Celebrate your partner by making a reservation for RVCC's 3-course, luxuriant prix fixe menu dinner in a romantic, intimate setting. Make your reservations 5-8 p.m. as soon as possible to ensure an exclusive table for you and your valentine.
RVCC's amenities like the Sports Center, dining options like the Valentine's Day menu, and event programming like Wine Wednesday can be the answer to that perpetual question: What will we do for date night?
Even deeper than that, members enjoy RVCC's peaceful, comfortable environment to foster deeper connections built on shared interests and enjoying new things together. Have you been looking to get closer to your loved one and strengthen your relationship? Joining a country club like RVCC could be that next step in your life together.